26th June, 2023
Government of Uganda and the UN continue to strengthen ties through harnessing Youth Leadership and Organization. The 2ndAnnual SDG Conference happened from 22nd – 23rd June, 2023 and we witnessed key High level Government Officials and Development partners in Uganda gather to unpack this year's theme, " Promoting inclusive National and Continental Actions for Accelerated delivery on the SDG and Agenda 2063" of the African Union. Using the Hashtags #SDGsUg and #LeaveNoOneBehind, key research, knowledge, information and action on the SDG implementation framework, monitoring and reporting on SDG key indicators was shared by coordinating sectors. The Conference was organized by the Office of the Prime Minister and UN Agencies in Uganda with support from World Vision and the Embassy of Denmark in Uganda.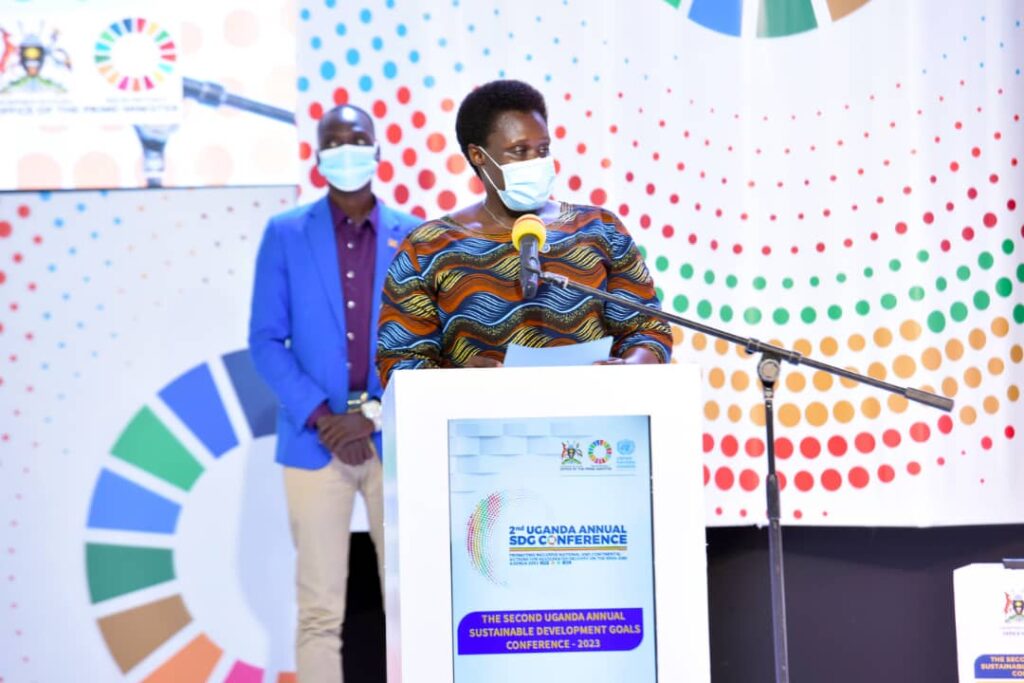 The Conference was presided over by the Minister in charge of General Duties and focal Minister for the SDG, Rt.Hon. Justine Kasule Lumumba, Officiated by the Vice President, H.E Jessica Alupo, and later closed by the Prime Minister of Uganda, Rt. Hon. Robinah Nabbanja. The main objective of the Conference was to reflect on the midterm progress made by Uganda in the integration and implementation of the SDG and AU Agenda 2063 in order to leverage synergies and articulate transformative pathways to advance the SDG.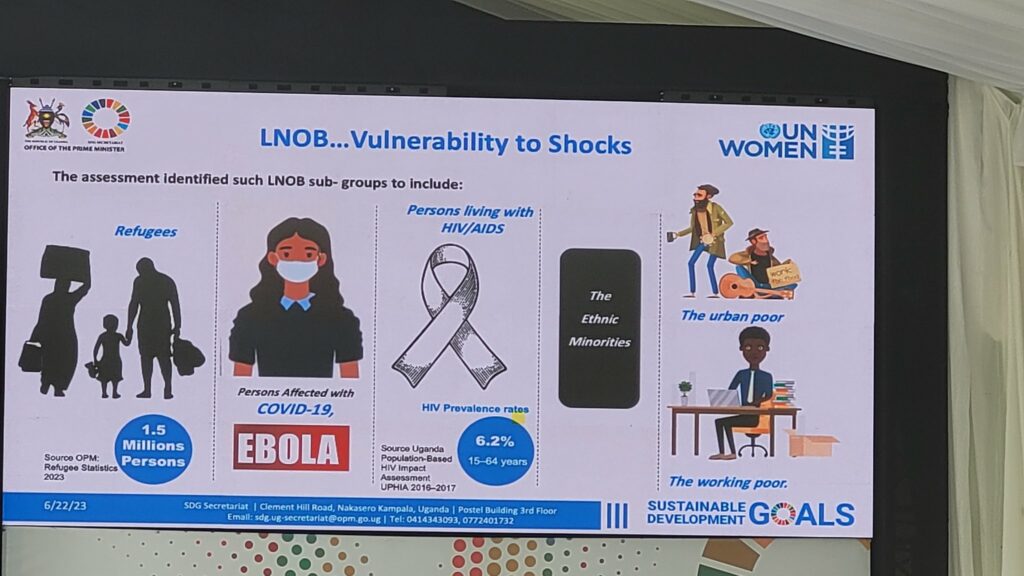 Key highlights from the Conference included an assessment report on Leave No One Behind #LNOB conducted by UN Women and presented by Dr. Albert Byamugisha the Head of the SDG Secretariat. The report highlighted the gaps for each SDG Goal indicators. This highlighted high levels of discrimination amongst key sub-groups as categorized for each indicator. The target number of indicators by the end of 2023 was 150 as compared to the 120 that had been reported provided. Key main sub-groups highlighted in the report included pregnant mothers, women and girls, person belonging to ethnic minorities, fish folks, refugees, people living with disabilities, Internally Displaced Persons, vulnerable children and working poor. One of the key highlighted indicators in the assessment reported that 3 in 10 households still lacked sufficient food. SDG 5 key highlights indicated that need to strengthen awareness on the Gender policy and Women emancipation strategies. The need to tackle Gender Biases to create honest discussion on how to mitigate inequalities.
"Think globally, act locally" Ministry of finance shared an action plan to promote SDG localization through:
Creating awareness,
Prioritizing the needs of local actors like Religious leaders, Cultural leaders, District Internal Security Officers (DISOs, GISOs and PISOs).
Promoting the National SDG Festival.
Engaging with the Private Sector to support the PDM Labs in conjunction with UNDP_Uganda
What have we done to build resilient infrastructure, promote inclusive and sustainable industrialization and foster innovation?
Digital technology and universal access to digital services is highlighted as one of the thematic areas enabling implementation of the SDG. In the floor paper presented by Proff. Alex Ariho from the African Agri- Business Incubator, he calls upon all Research Institutions to work together. Leveraging on the power of science and technology in Africa, he calls for Digital solutions for Agriculture, promotion of precision agriculture, maintaining agro-processing and value addition and climate smart agriculture. He recommended
The need to create an environment that nurtures digitization.
Deliberate effort to engage women and youth.
Public-private sector partnerships.
This year's High level political forum is focusing on SDG 6,7,11 and 17. It has however been noted that some significant funding has been shifted to other war affected countries like Ukraine and Bi-lateral and multi-lateral resource envelope was drying up yet our Country still needed long term financing for Climate change related issues. Alternatives pointed to the enhancement of domestic resource financing. Bank of Uganda shared opportunities like the Agriculture Credit facility that extended small business funds for Youth but most importantly the need to develop an E-commerce policy was called upon.
The Youth Coalition for SDGs in Uganda presented a floor statement under the leadership of H.E Laban Musinguzi where they called upon Government to prioritize financing for Youth led initiatives through the 1 Million Youth Solutions, enabling an environment for credit rating and ease of Business Corporation through access to credit to increase the tax base and extending mentorship in SDG leadership and Organization.
The Office of the Chief Justice report presented by Justice Catherine Bamugemereire indicated that many cases of Sexual Gender Based Violence SGBV still remained unreported. They provided a toll free line where cases of SGBV could be reported 0800111900. It was noted that there was still slow acceptance of E-Justice electronic case management systems by Advocates. The speech delivered on behalf of the Chief Justice called upon continued promotion of Accountability and Transparency.
The water crisis in some of the key areas in Uganda was mentioned to be caused by encroachment on the catchment areas mapped out as mentioned by Dr. Calist Tindimugaya a Commissioner at Ministry of Water and Environment. He mentioned the overall goal was to meet the target of easing access of water to people. He mentioned some of the innovations by Ministry to promote sanitation including innovative ways of collecting bore-hole water, the solar pipe water system and sensitization programs. The issues of Hygiene and Sanitation were highly emphasized as an intervention to keep girls in school. Sandra Angwech, a Primary pupil and speaker of the Children's rights council from Wakiso District. In a statement she delivered on behalf of children, she calls upon the Government to provide changing rooms for girls and female teachers to maintain privacy during Menstruation. Government to provide enough hand washing facilities in schools to promote hand washing and prevention of germs.
Overall recommendations by Cabinet were centered on strengthening partnerships and collaboration using a multi-sectoral approach to
Conduct monitoring and follow-ups to increase productivity.
Promote the Global Climate Fund through the Climate Financing Facility under Ministry of Finance.
Operationalize the National Partnership Forums to support evidence gathering, joint dialogues, policy awareness and advocacy.
The Conference was closed by the Prime Minister Rt. Hon Robinah Nabbanja who thanked all Government MDAs and Development partners working tirelessly to achieve the SDG.