Somewhere in Northern Uganda, Lango Region in a small town in Akere, Apac District, a dream was born. 30 Young Women joined positive efforts to build a movement of Young Feminists informed by community reactions and voices from Young Women leaders attaching value to each and every small effort and contribution. Speaking as the Chairlady of this Movement, who was entrusted with a position to foresee its future, I evidently speak to the truth when I assure you that, I never knew where to start, but again I couldn't let us down more so withdraw the one thing that was holding us together; hope! The responsibility that came with the power entrusted in me brought so much curiosity as to why every one of them put so much trust in me even when I had nothing to offer at the moment. The blind faith I received from these Young Women strengthened my own faith in the process as I asked for wisdom from God the omnipotent who had all the answers to that Calling.
27th, July, 2020, a journey to realizing this tremendous dream was embarked on. Being a part of the Feminist Transformative Leadership Fellowship under the African Women's Leadership Institute became one of the answers to the questions I asked myself from the moment I was elected in the Chairlady position of the Young Feminist Movement. This fellowship became a relief to where I had to unpack all these grassroots challenges Young Women were facing on a daily. Like they say, a problem shared is half solved, and no doubt, it's been the case. Being able to share our principles and values as the Young Feminist Movement made me appreciate the work each young woman in their respective communities is doing, I would mention names but let me save that for my life time writings that I wake up to every morning of my day.
My experience during the three months of virtual enhanced learning taught me the importance of team work. Even when we found hardships as we all know the hitches in internet and technology usage, we went through them as a team and made it work, as I write this blog, we've successfully completed all the scheduled sessions and assignments as planned and we couldn't have accomplished that minus superb coordination, resilience and co-operation.
The humbling sessions on self-care every beginning of main session, grounding advice from Hope Chiguddu- my dear Hope, Feminist Theories and Movement building sessions didn't leave me the same. They strengthened my personal values as well as values as a Feminist Leader. The well-coordinated group discussions and assignments empowered us even when we felt lost and confused on how to go about online group works. This clearly portrayed the strength and abilities in Feminist Movements even amidst a huge global crisis that had put the world to a standstill.
Let's not forget the inter-generational bonds that were sealed. Regular supervision and sharing of responsibility were some of the core values I took from the Fellowship. We were all learners and teachers at the same time. 
The Young Feminists Movement Structure.
Just like any other social movement, we collectively agreed on having a structure that eased coordination, mobilization and collaboration. Headed by the chair-lady, these positions were 1-year term based to create opportunities of leadership for every Young Woman who was part of the movement. The 5 positions were created fundamentally based on the 10 principles of the Movement centred on inclusion.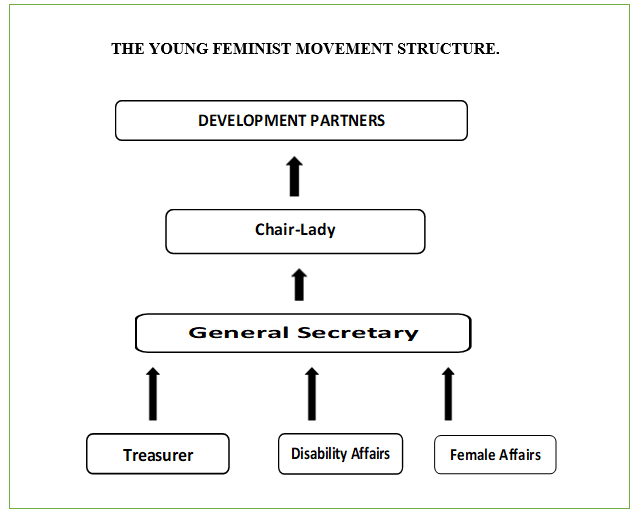 However, the worry remained whether this well thought-through structure would be sustainable once power shifted to the communities.
Allow me end here by sharing the 10 Principles we affirmed to as The Young Feminists Movement,
Self-awareness: As feminists we shouldn't be so hard on ourselves as the negative energy, we may carry could greatly affect the people around us and weigh them down. That is why knowing how much of a feminist you are and your ability to stand and identify as part of the movement is a key principle.
Self-care and caring for others
As feminists, we cannot serve from an empty cup. We need to be mindful of our health by practicing good healthy habits that are dubbed exemplary to others in the movement. Taking up leadership roles in society necessitates us becoming role models and draws positive energy to other young women in the movement.
In the spirit of feminism, dismantling patriarchy is an important aspect in building the feminist movement. Ensuring we build and grow each other by not putting one another down in the spirit of sisterhood is key principle.
To dismantle biases: We need to embrace the fact that every human being, regardless of their sex and Gender, whether they are against the movement or in support, they will offer a chance to change mindsets and implore learning and full understanding of feminism and its agenda.
Looking at the quality and kind of advocacy we carry out by being mindful of society and their perception and knowing how to address the disagreements will sooth the biases around.
As feminists, we do not want to leave any one behind. Since most of our principles only include women, in reality we need to have everyone on board to push the feminist agenda regardless of their gender identity and sexuality as long as they stand and support the spirit of sisterhood and feminism at large.
Male involvement in feminism work is an important aspect of promoting inclusion in our agenda.
Challenges with pushing the feminist agenda are mostly tagged around power indifferences.
Already established strong feminists need to embrace the spirit of mentorship and sharing knowledge with young rising feminists in society.
Applauding the power dimensions and denouncing practicing patriarchy in the feminist movement are principles that will keep us grounded. Sharing Power also capacitates clear definition of roles and responsibilities.
Responsible and transparent use of power
All principles have a reason why they were instated and part of that is giving us the need to hold our leaders accountable within the movement and the community.
Defining feminist roles clearly and making people in the community take ownership through full participation in feminist activities is a great way of building stronger movements and promoting
transparency.
Accountability and collaboration
Taking advantage of supportive and collaborative structures through working together to achieve greater feminist impact and engagement in society is one way of ensuring collaboration is promoted in the movement.
At a larger level, this principle promotes personal and team movement accountability, making personal accountability to the community and general in terms of the services and work we do as feminists.
All this collaboration brings in sense of collective participation hence boosting and strengthening team movements in the agenda
As feminists we need to respect each and everyone's opinion. Knowing when and when not to respond to criticism as you receive feedback is a strength every feminist should possess.
In the feminist code we do not criticize our friends in a way that brings them down in the spirit of sisterhood.
Strengthening our communication skills, how we communicate and interact with society will boost our courage to push the feminist agenda without fear or favor but standing by the cause.
Being able to face our fears and turn them into strengths through sharing life experiences and stories that implore others to impact and push the agenda is the courage every feminist needs to wear to build and grow the feminist movement.
Zero tolerance to any forms of discrimination.
As feminists, we need to priorities intersectionality if we are to bridge the gender imbalances in our communities.
Committing acts against individuals due to the status of their health, race, gender, or sexuality is something any feminist in the movement should desist from committing.